Donations & Donation Memorials
2016
Robert Ivancic in memory of June Parker
Rotary Club of the Smithfields

Donations from UnitedHealth Group employees
Michelle Geisinger in memory of Walley

Jeff Steinmetz in memory of Robert Pietras Sr.
Matt & Julie Pietras in memory of Robert Pietras Sr.
2015
Robert & Teresa Mansell in memory of Manfred Konzman
Grace Fanelli in memory of Manfred Konzman
Beth Moses, Thomas McCan, Susan Ewing, Tom Schwindhanner,
Barb Hayward, The Benevity Community Impact Fund and the Eagles
Ladies Auxiliary Aerie 1106
---
First Northern Bank and Trust, Sciota Branch bank staff had a dress down day and raised money for PAR. We thank you all.
---
Thanks to a great group of high school students and their teacher who held a very successful fundraiser for PAR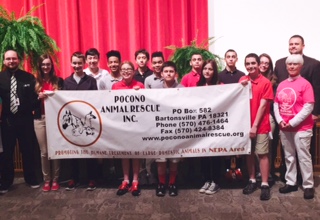 ---
BIG SHOUT OUT FOR THE GIRL SCOUTS WHO DID A GREAT JOB HELPING US GET THE MESSAGE OUT ABOUT PAR AND OUR MISSION AT TRACTOR SUPPLY IN SWIFTWATER THIS MAY.
---
PAR members are sadden by the loss of our good friend and long time PAR supporter Judy Feller who passed away in 2013. Judy will always be remembered for her compassion, love and generosity for the need's of neglected animals.
---
Please refer to our past Newsletters for names of all the great people that have donated to us in previous years.